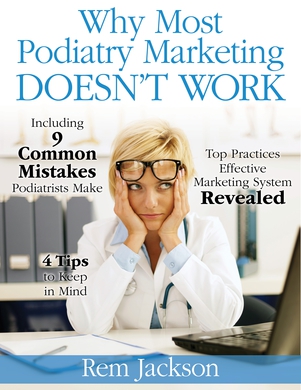 Thank you for requesting our free book, "Why Most Podiatry Marketing Doesn't Work," which will answer many of the questions you may have about marketing your podiatry practice.
It is likely that you are very frustrated with attempting to market your practice. We know this because most podiatrists are tired of spending money and time on marketing that doesn't work.
"Why Most Podiatry Marketing Doesn't Work" addresses these key mistakes that podiatrists make while attempting practice marketing and then offers a simple, four-step process to grow your practice to become the practice that you wish to have. The key mistakes are:
Failure to Plan
Underestimating the Importance of Practice Marketing
Repeating What Everyone Else is Doing
Taking Advice from the Person Selling the Advertising
Ignoring the Gold in Your Files Right Now
Not Building a Marketing Database
Not Measuring Results
Never Asking for Referrals
Putting All Your Eggs in One Basket
Playing a Shouting Game
You will receive a link to the book in an email sent to the email address you provided.