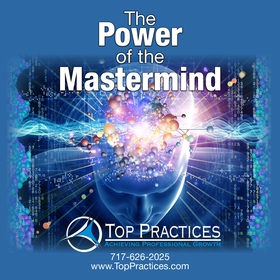 The Mastermind group is powerful, which is why we have it at the center of everything we do at Top Practices.
Being a physician with a private practice is hard work. Not only are you responsible for your patients' care, you must also manage staff and keep your office running. Doing all this is only getting more challenging with the many changes in the medical field. Trying to do it all can feel isolating and be exhausting.
The truth is that it doesn't have to be that way.
In this "Power of the Mastermind" recording, Top Practices CEO Rem Jackson explains how medical marketing drives practice growth and how the Mastermind group is at the center of this. This powerful group connects you to other professionals in the medical field who understand what you're going through, eliminating isolation and allowing you to learn from the best in your field. It's one of the most powerful resources out there to help you transform your practice from what you've ended up with to the one you want it to be. That's why the Mastermind group is the foundation for everything we do.
In this recording, you'll hear:
More about medical marketing
What the Mastermind is
Testimony from current Mastermind members
A sneak peek at an actual Top Practices Mastermind meeting
How Top Practices uses the Mastermind concept
What the Mastermind group and Top Practices could do for you
If you've ever wondered what the first step is to transforming your podiatry practice marketing so that it works, the answers are here. Request a copy of "The Power of the Mastermind", a recording that describes in detail how hundreds of Podiatry Practices have implemented our World Class Marketing System and ended their concerns about a lack of quality patients permanently.
The starting point to the practice you want is one step away.